Meeting Notice
The next meeting of the Stellwagen Bank Charter Boat Association Will be Held on Tuesday, Jan 9th
Location:
Cask n' Flagon Restaurant
840 Plain Street (Route 139)
Marshfield, MA
at 7:00 PM
Doors Open at 6:30
Captain John Bunar

Captain John Bunar has been fishing the offshore waters of the northeast for over 35 years. At the age of 9, John cut his teeth as a mate on a local charter boat in Sesuit Harbor. He has since earned a reputation as being one of Stellwagon Bank's most proficient bluefin tuna highliners. From June to November, John spends most of his time chasing fish from Maine to Cape Cod. Owning and operating a sportfishing charter company based in Plymouth Massachusetts, John has successfully connected his clients to hundreds of giant bluefin tuna. John is also one of the local highliners in the striped bass fishery landing thousands of fish in the local waters.  John will be providing us with both "Tuna Notes" and how and where to fish Duxbury and Plymouth Bays saving your trip when you can't cross the bay.
New Shark Fishing Regulations Go Into Effect 2018
DJ Stenson and Captain Frank Pitten of the North Atlantic Monster Shark tournement will explain the new shark fishing regulations which go into affect in 2018.  Some of these are hook requirements and mandatory shark identification on line course and quiz.
Meeting Notice
The next meeting of the Stellwagen Bank Charter Boat Association Will be Held on Monday, December 11th  at 7:00 PM
Doors Open at 6:30
Meeting Location – Haddad's Ocean Cafe 
293 Ocean Street  
Marshfield, MA, 02050 
Guest Speaker




Mr. Brad McHale

Northeast Branch Chief
Fishery Management Specialist,
NMFS, HMS Management Division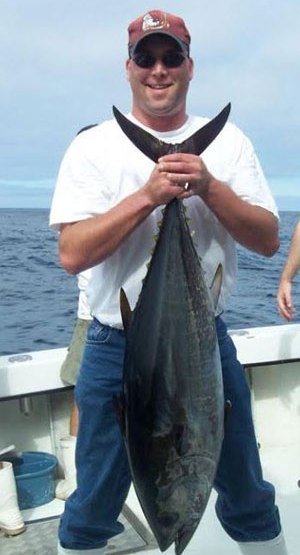 Mr. Brad McHale is responsible for running the Northeast office that manages Highly Migratory Species (Tunas, Sharks, Swordfish, and Billfish).  He wears many different hats on a daily basis, from drafting rules and regulations that dictate when/where fishermen can pursue fish, to how many/how big those fish can be, we keep track of how many fish are being caught and how many fishermen are out there.  His office works with both domestically and internationally with scientists, fishermen, enforcement personnel and policy makers to ensure they are making informed decisions that are good for not only the fish but those that enjoy catching/releasing, selling, and eating those fish as well.  He received his BA Marine Affairs Degree from the University of Rhode Island and started working full time in 2000 after working in a contract position for a few years.
Brad will be providing a presentation oh what the HMS Branch's responsibilities are and also answer questions you may have.  If you would like to ask a question or two, please send those questions in advance to

info@stellwagenbank.org

  to be properly prepared to answer your questions.

 
MEETING NOTICE

May 8t
h 7:00 PM
Doors Open at 6:00 and a Buffet with dessert, Donation $10.00 Per Person
This Meeting Will be Held at Haddad's Ocean Cafe, Brant Rock, Marshfield, MA
Guest Speaker
Nicholas Calabrese 
School for Marine Science and Technology of the University of Massachusetts Dartmouth
A Video Trawl Survey for Atlantic Cod in New England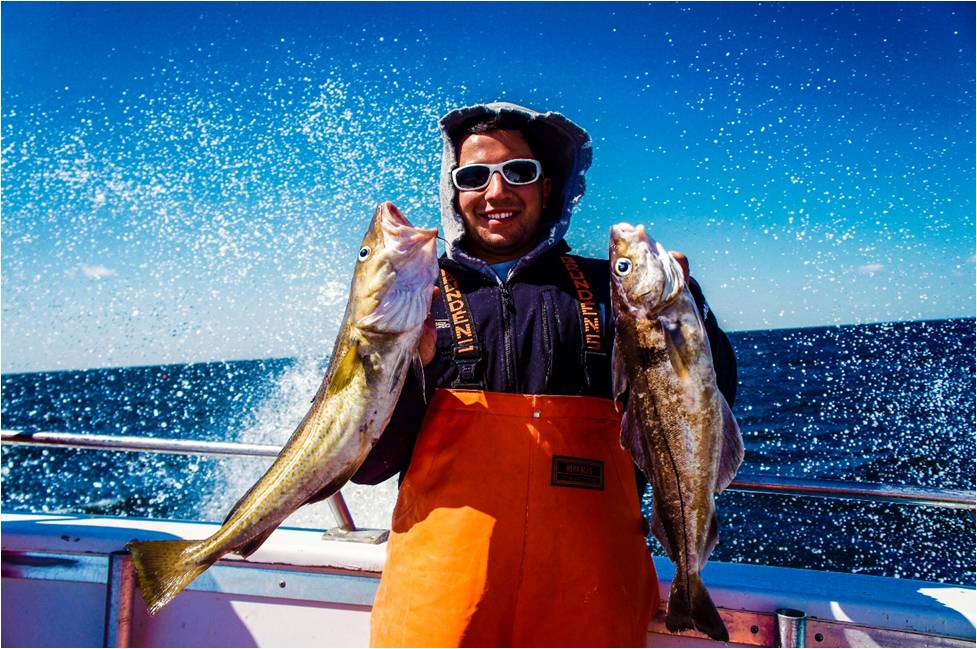 Nick Calabrese grew up recreational fishing in New England targeting  cod, groundfish and other species in the Gulf of Maine and Georges Bank on both party and charter boats. As he got older his fishing interested expanded, and had the opportunity to fish across the east coast for a variety species. In the spring of 2015 he graduated magna cum laude from Roger Williams University with a B.S. in Marine Biology and minors in Chemistry and Psychology.  At Roger Williams he studied mercury contamination in blue crabs and gamefish in Narragansett Bay. After graduating from Roger Williams he was accepted to the M.S. program at the School for Marine Science and Technology of the University of Massachusetts Dartmouth.  Here his Masters work focuses the use of video trawl technology in surveying Gulf of Maine cod. This project means a lot to him personally as the recreational cod fishery was his introduction into saltwater fishing and his marine science career path.
Meeting Information
MEETING NOTICE

April 11t
h 7:00 PM
Doors Open at 6:00 and a Buffet Meal Served, Donation $10.00 Per Person
This Meeting Will be Held at Haddad's Ocean Cafe, Brant Rock, Marshfield, MA
Willy Goldsmith, PhD Student, Virginia Institute of Marine Science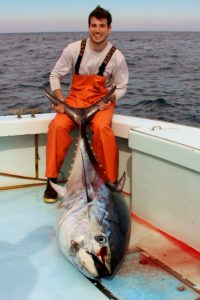 Willy Goldsmith is a PhD student and fisheries scientist at the Virginia Institute of Marine Science (VIMS), College of William & Mary. A Boston native and lifelong recreational fisherman, Willy grew up plying the banks of the Charles River for largemouth bass and carp, while spending time offshore aboard party boats and charter boats fishing for cod and other Gulf-of-Maine species. For those who knew him well, it came as no surprise that he eventually decided to turn his passion into a vocation, and following completion of his degree he plans to pursue a career in fisheries policy that aims to balance sustainable fisheries with the needs of recreational fishermen, commercial fishermen, and other stakeholders. Willy's research at VIMS over the past several years has focused on the recreational fishery for Atlantic bluefin tuna along the east coast from Maine to North Carolina. Using surveys of fishermen, along with satellite tagging of recreationally-caught bluefin, his work endeavors to help managers better assess the value of the fishery to anglers while also better understanding the impact of the fishery on the bluefin tuna resource.
Join Willy and the SBCBA at Haddad's Ocean Cafe, Marshfield on Tuesday, April 11th, 7:00 PM to hear him discuss his survey research that aimed to tease out the motivations, preferences and values of bluefin tuna anglers, as well as his tagging study that assessed post-release mortality of bluefin tuna in the light-tackle recreational fishery. He'll describe the possible implications of this work, while also providing an overview of the current status of bluefin tuna stocks.
MEETING NOTICE

January 10t
h 7:00 PM
This Meeting Will be Held at Haddad's Ocean Cafe, Brant Rock, Marshfield, MA
Captain Damon Sacco
Castafari Fishing Charters Inc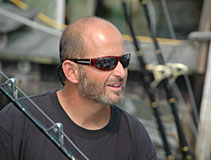 Captain Damon Sacco is a U.S.C.G captain and the founder of Castafari Inc. After earning a bachelor degree at Hobart College in 1991, his propensity for the sea eventually developed into a full time career on the water. In the Spring of 1997, Damon established his own private sport fishing charter operation, which later evolved into one of the many facets to Castafari Inc.
Over the past 20 years, Damon has garnered continued success with tournament fishing results, including 14 top three tournament wins and 3 top place finishes, including the 2015 Block Island Tri-State. Two Massachusetts big game state records and a pending world record have been caught on the Castafari.(182.5 lb wahoo) The Castafari crew's fishing exploits have been featured on national television several times from Nat Geo to the Today Show.
Damon has successfully guided his clients to some amazing catches…including a 138 inch blue marlin. Damon is currently on the pro-staff at Simrad, Sufix, Alutecnos, Costa Del Mar, Aftco, Starbrite, Pompanette, and Deep Ocean Apparel, which all manufacturer products the crew of the Castafari relies on.
In 2011 Captain Damon launched two offshore big-game Cape Cod based sport fishing competitions, The Hyannis Tunafest and Oak Bluffs Bluewater Classic. Both events have successfully raised over $100,000 for local charities helping young people in need. Castafari also co-launched the fishing seminar series Big Game Bash in 2009, and went on to create it's own seminar series in 2015. Captain Damon is an active sport fishing writing and photography enthusiast, and has had several of his fishing related photos and stories published in just about all of the major fishing publications like Marlin, Saltwater Sportsman, Big Game Journal, and On The Water.
Damon has been offshore fishing the northeast for over 25 years, and has logged over five thousand offshore hours at sea in waters from Maine to Florida. Damon has logged well over 250 trips to the northeast canyons, and has released over 75 northeast blue marlin, 2 estimated at 800 to 1000 lbs). He has also fished alongside many great captains at different world wide destinations, including Panama, The Galapagos, Bora Bora, The British Virgin Islands, Cabo San Lucas, Belize, The Bahamas, Venezuala, and right here in America! In 2009, Damon launched his "FISH LICK'n FILMS" Instructional DVD series. Volumes 1 and 2 mackerel and ballyhoo rigging)are for sale now on the Castafari website and in a variety  catalogs and stores.
December
13th 7:00 PM
Meetings are held at the Tavern Restaurant
Captain Eric Stewart, Trolling Tips For Bluefin Tuna
 
Captain Eric Stewart has been in the sportfishing/charterboat industry for the past 40 years and has been a USCG licensed Captain for over 34 years. He holds a 100-ton Masters license. He started the Tammy Rose Sportfishing Charter business in 1988. He has fished the waters of Cape Cod his entire life and for the last 8 years he has spent much of his winter time fishing up and down the eastern seaboard from Cape Cod to Florida out to the Turks and Caicos. He was also involved in starting a fishing lodge in Mozambique, Africa where he made three expeditions there to document the sport fishing potential of the area. He has also fished Midway Islands, Hawaii, and Costa Rica.
In 2001 he opened The Hook-Up! Bait and Tackle shop with his business partner Cliff Hampton. For the last 15 seasons he has specialized in the pursuit of bluefin tuna on rod and reel. He has over 40 giants to his credit as a captain and he has landed over 1900 bluefin on the troll. He has placed in several tuna tournaments including winning the Hyannis Tunafest back to back in 2014 & 2015, 1st Place in the Nantucket Big Game Battle 2015, 3rd Place Oak Bluffs Offshore Classic 2015, and took 3rd Place and the Daily prize THE 2016 Nantucket Bluefin Blast.
MEETING NOTICE


Tuesday, November 15th 7:00 PM
Meetings are held at the Tavern Restaurant
1 Proprietors Drive
Marshfield, MA 
Located Behind Roche Brothers Supermarket
Route 139 
Oct 11th, 2016 Guest Speaker
 Moira Kelly, GARFO Recreational Fisheries Coordinator




Moira Kelly is the Greater Atlantic Regional Fisheries Office's Recreational Fisheries Coordinator.  Moira has been with NMFS for over 10 years, but has recently become the Recreational Coordinator.  She is a graduate of the University of South Carolina and Boston University.  Moira is also a Returned Peace Corps Volunteer from the Philippines, where she worked as a Coastal Resources Management Volunteer in the City of Puerto Princesa, Palawan.  Most recently, Moira worked on the New England Council's Whiting, Red Crab, and Habitat Plan Development Teams, as well as the Mid-Atlantic Council's Summer Flounder, Scup, and Black Sea Bass plan.  In her new role as fishery program specialist, Moira is responsible for the Northwest Atlantic Fisheries Organization (NAFO) and a number of other special projects.
May 10th, Meeting Guest Speaker
Captain Taylor Sears, Slick Fish Lures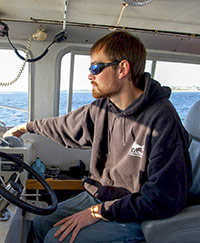 Capt. Taylor Sears is one of the original founders of the highly accomplished Mass Bay Guides outfit based in Scituate, MA. Taylor has been working as a mate and captain for the passed 13 years. Taylor has earned a reputation as being one of the most successful bluefin tuna fisherman in the northeast. He has developed and adapted many techniques to target even the most finicky bluefin tuna.
Taylor has his 100 Ton USCG License, and continues to fish part time as a Captain and Mate for Mass Bay Guides. Taylor also successfully launched his own tackle corporation in 2003, Squid Bars Inc. Taylor further developed his business incorporating dredge fishing applications and products over the past couple of years, and launched Slick Fish Products  in 2015. Slick Fish Products builds teaser dredges, spreader bars, machines, and single lures. The Slick Fish Dredges are gaining regular popularity in the northeast canyons as the dredge market evolves. They are an excellent lure for tuna and striped bass fishing and are now being used world wide. Taylor will be explain how to properly rig and fish Slick Fish Lures for striped bass and tuna increasing your opportunity at landing more fish this coming season.
April 12th, 2015
John Houghton of Daddy Mac Lures
Vertical Jigging For Striped Bass
 
Jack Houghton is a commercial fisherman, charter captain and co-owner of Daddy Mac Lures. His seminar will teach his methods of vertical jigging for striped bass off of Chatham. Using this method, there are those that are able to out fish others consistently. "Learn some tips and techniques to even the playing field," says Jack. "It's the little things that make the biggest difference."
 March 8th, Meeting Guest Speaker 
Dr. David Pierce, Director MA Marine Fisheries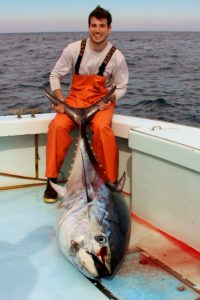 Dr. David Pierce oversees the Massachusetts' Division of Marine Fisheries bureau for inter-jurisdictional commercial and recreational fisheries policy and management, as well as fisheries research in support of fisheries management and habitat protection. He is an adjunct professor at the School for Marine Science and Technology (SMAST) at the University of Massachusetts in Dartmouth. Dr. Pierce earned both a B.S. and M.S. in marine biology from that institution and received his Ph.D. in environmental sciences from the University of Massachusetts, Boston. He is the Massachusetts representative to both the New England and Mid-Atlantic Fishery Management Councils.
February 9th, 2016 Meeting Guest Speaker
Mr. Richard Ruais, Executive Director
American Bluefin Tuna Association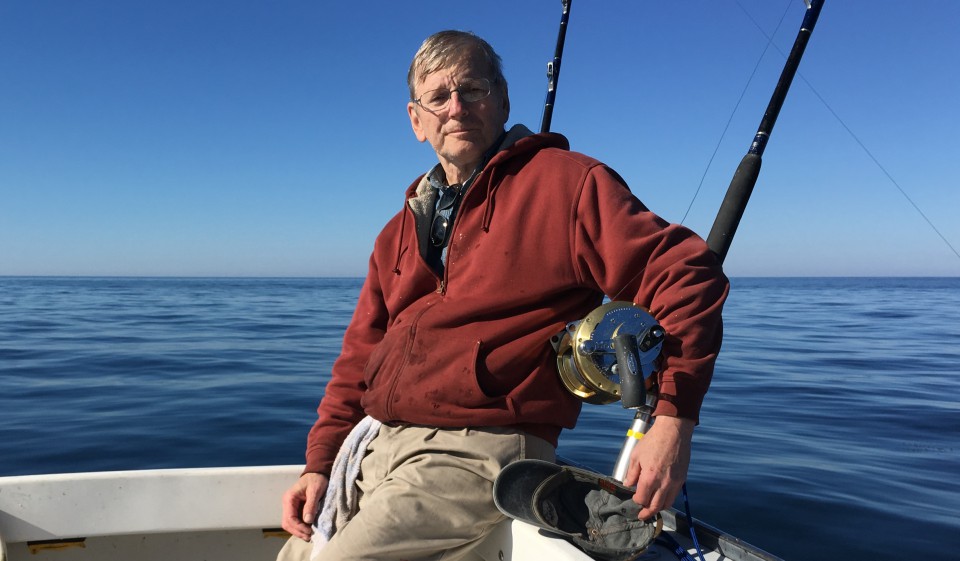 Rich Ruais is the Executive Director of the American Bluefin Tuna Association (ABTA). ABTA has a dual mission of supporting and providing for independent scientific research on Atlantic bluefin tuna stocks and protecting the traditional "artisanal" hand gear rod and reel and harpoon fisheries.
Rich has served on the NOAA/NMFS Highly Migratory Species Advisory Panel Panel (HMS AP) since its inception in the 1990's. The HMS AP assists NMFS with domestic management by reviewing draft management plans and making recommendations for strategies most compatible with U.S. traditional commercial and recreational fisheries. The 2006 Final Consolidated Atlantic Highly Migratory Species Fishery Management Plan requires routine amendments to insure that the objective of the Magnuson Act and Atlantic Tunas Convention Act to provide U.S. fishermen a "Reasonable Opportunity" to catch ICCAT quotas is being achieved. He is also a member of the U.S. ICCAT Advisory Committee to NOAA and responsible for development of specific scientific and management objectives such as quotas, closed areas, size limits, gear restrictions and more. Rich has received numerous appointments to the U.S. Delegation to ICCAT annual plenary meetings since 1992.