Welcome to Stellwagen Bank Charter Boat Association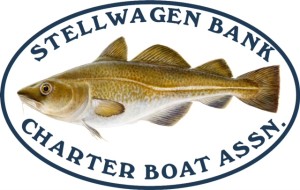 STELLWAGEN BANK CHARTER BOAT ASSOCIATION
Click Here to Join Stellwagen Bank Charter Boat Assoc
MEETING NOTICE

Tuesday, October 15th 7:00 PM
Meetings are held at the Tavern Restaurant
Guest Speaker
To Be Announced Soon

Fall 2016 Commercial Fishermen's Safety & Survival Training
Sponsored By Fishermen's Partnership
Click Here to See about current Regulations, Meetings and Comment Periods including update to the 2016 season for fluke, seabass and scup fishery
Membership dues are now being collected for 2016 .  You can either bring your check to the meeting on March 8th or mail to the address on the membership application.
  Donate for a featured Link!
Get a feature listing with pictures and description of your fishing business donate $150 or more to the Stellwagen Charter boat Association and your listing will appear on our Pages. Put your website description or Banner here. See our supporters below.




 These Businesses Support the Stellwagen Bank Charter Boat Association.