Welcome to Stellwagen Bank Charter Boat Association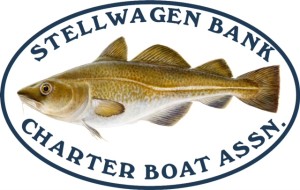 STELLWAGEN BANK CHARTER BOAT ASSOCIATION
Click Here to Join Stellwagen Bank Charter Boat Assoc
or Pay Your Annual Dues

Meeting Information
MEETING NOTICE

April 11t
h 7:00 PM
Doors Open at 6:00 and a Buffet with dessert, Donation $10.00 Per Person
This Meeting Will be Held at Haddad's Ocean Cafe, Brant Rock, Marshfield, MA
Willy Goldsmith, PhD Student, Virginia Institute of Marine Science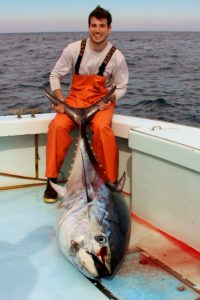 Willy Goldsmith is a PhD student and fisheries scientist at the Virginia Institute of Marine Science (VIMS), College of William & Mary. A Boston native and lifelong recreational fisherman, Willy grew up plying the banks of the Charles River for largemouth bass and carp, while spending time offshore aboard party boats and charter boats fishing for cod and other Gulf-of-Maine species. For those who knew him well, it came as no surprise that he eventually decided to turn his passion into a vocation, and following completion of his degree he plans to pursue a career in fisheries policy that aims to balance sustainable fisheries with the needs of recreational fishermen, commercial fishermen, and other stakeholders. Willy's research at VIMS over the past several years has focused on the recreational fishery for Atlantic bluefin tuna along the east coast from Maine to North Carolina. Using surveys of fishermen, along with satellite tagging of recreationally-caught bluefin, his work endeavors to help managers better assess the value of the fishery to anglers while also better understanding the impact of the fishery on the bluefin tuna resource.
Join Willy and the SBCBA at Haddad's Ocean Cafe, Marshfield on Tuesday, April 11th, 7:00 PM to hear him discuss his survey research that aimed to tease out the motivations, preferences and values of bluefin tuna anglers, as well as his tagging study that assessed post-release mortality of bluefin tuna in the light-tackle recreational fishery. He'll describe the possible implications of this work, while also providing an overview of the current status of bluefin tuna stocks.
Click Here to See about current Regulations, Meetings and Comment Periods
  Donate for a featured Link!
Get a feature listing with pictures and description of your fishing business donate $150 or more to the Stellwagen Charter boat Association and your listing will appear on our Pages. Put your website description or Banner here. See our supporters below.




 These Businesses Support the Stellwagen Bank Charter Boat Association.